A short cycling break through the heart of Tuscany between historical Siena and Florence, birthplace of the Renaissance. Immerse yourself in the wonderful Tuscan countryside visiting timeless hilltop villages and tempting wineries.
The Tuscan countryside is every bit as stunning as postcards depict and what better way to enjoy it than from the saddle of a comfortable bike, pedalling the back roads and pathways of this delightful region.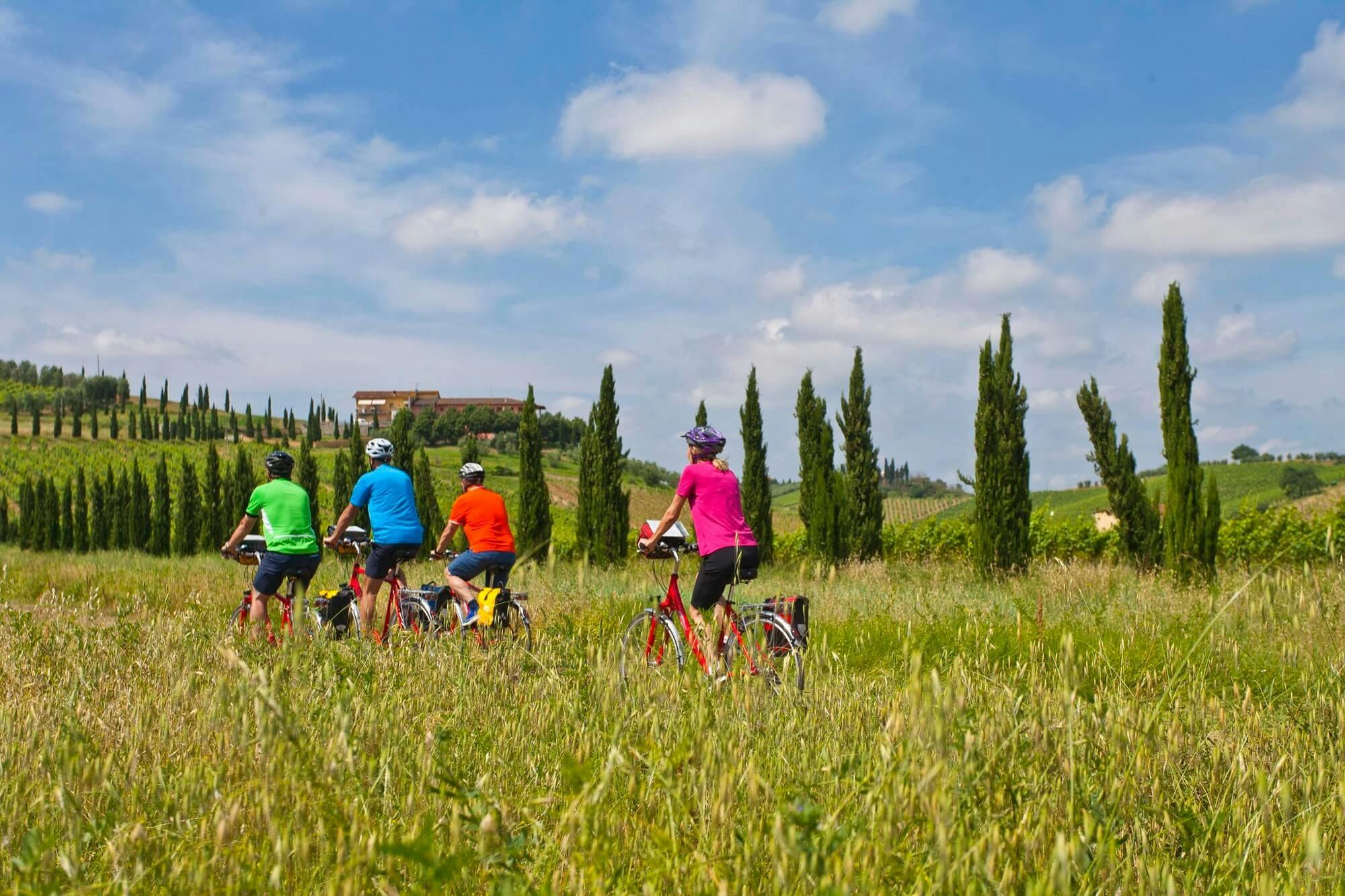 Cycling through the Tuscan countryside
Siena is a beautiful, medieval city and the perfect starting place for your Tuscan cycling holiday. The narrow streets of the old town are delight to explore and the towns centrepiece, the Piazza del Campo is one of Italy's most beautiful town squares. Browse the bustling market stalls, admire the magnificent Torre del Mangia, the second tallest tower in Tuscany, or simply sit and soak up the atmosphere at one of the many cafes.
The cycle route leads you out into the gently rolling hills of the Chianti countryside. The going is quite hilly at times but the scenery is truly sensational so stopping for a breather just gives you more time to appreciate your surroundings.
Along the way you will pass through and stay in gorgeous Tuscan towns and villages such as Radda in Chianti and Greve in Chanti. All the time you will be cycling through the famous Chianti wine region of Tuscany and there will of course be plenty of opportunities to sample this excellent local product during your tour.
The finale of this trip is Florence, the capital of Tuscany and birthplace of the Renaissance. Take a walk across the famous Ponte Vecchio, lined with tiny shops, visit the Santa Maria del Fiore cathedral, il duomo, tucked into Florence's web of streets. We also recommend a visit to the famous Uffizi gallery, home to the world's finest collection of Renaissance paintings and sculptures. Our tip is to book your tickets in advance as queues can be long. www.uffizi.org.
This cycle tour showcases many of Tuscany's highlights and is the perfect way to get to know one of Italy's most beautiful regions.
The terrain on this tour is quite hilly and will suit cyclists who don't mind regular climbs. 95% of the route is on paved roads with 5% on unpaved paths.