A get away from it all cycling holiday in Puglia, the heel of Italy, discovering the back-roads, quaint towns and sublime beaches of serene Salento. Olive groves, dry-stone walls, turquoise seas, scrumptious cuisine and charming accommodation characterise this laid-back holiday.
On this holiday you will get to know the beautiful region of Salento in southern Puglia. Daily rides along quiet country lanes will lead you through ancient olive groves to sleepy villages and historic towns. For the first three days you will be riding inland before following the Ionian and Adriatic coastlines for the the final three days.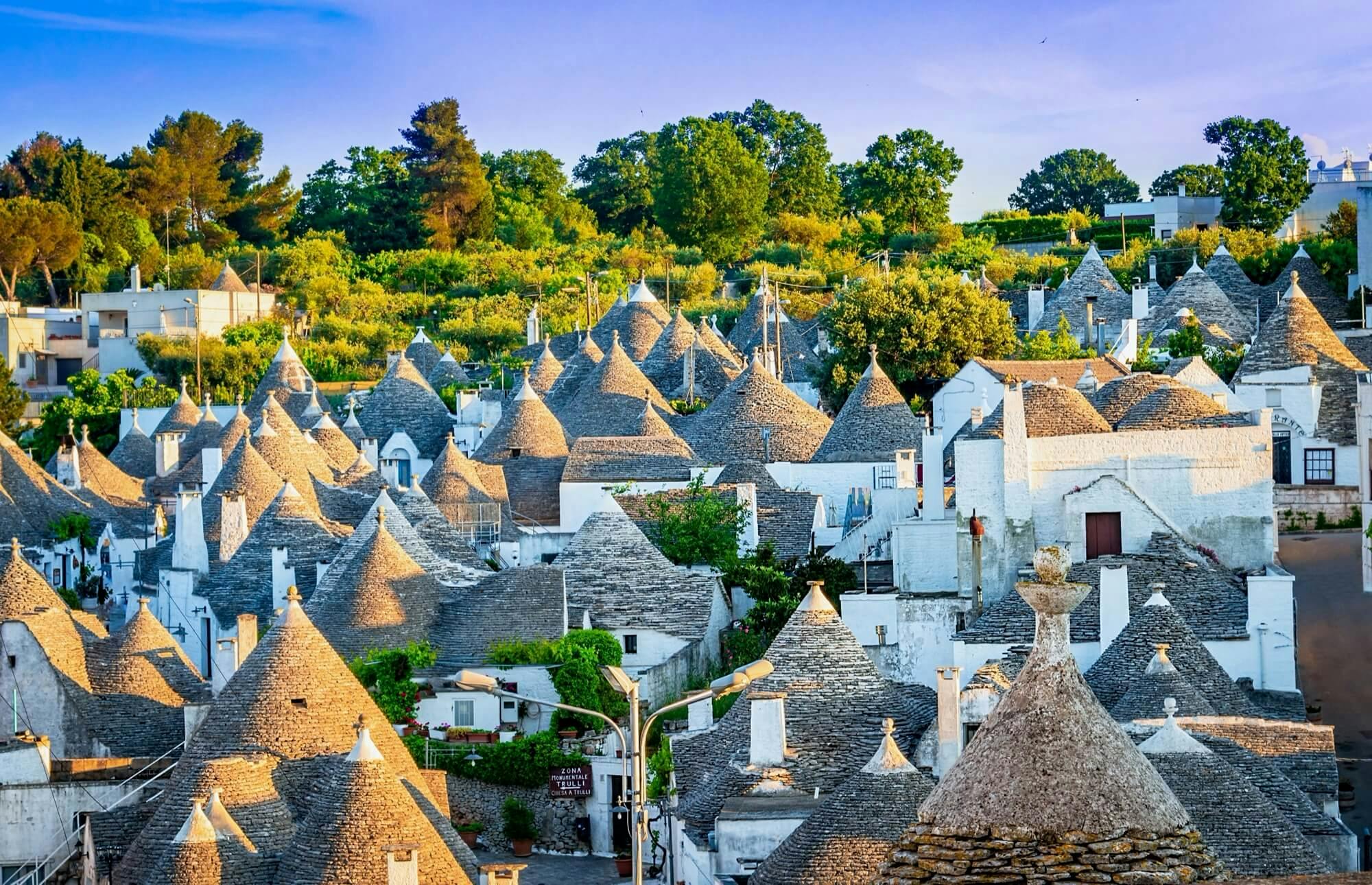 Trulli houses of Alberobello
Besides its spectacular scenery, Salento also enjoys a deserved reputation for it's superb cuisine so besides some wonderful cycle rides can also look forward to some delicious food along the way too.
The holiday starts in the charming town of Alberobello with its many conical roofed 'Trulli' dwellings. You'll visit Ostuni, the ancient 'white town', offering splendid views across the countryside to the Adriatic coast. You'll cycle along quiet lanes lined with dry-stone walls that wind their way through Puglia's fertile countryside of ancient, gnarled olive groves, orchards and wheat fields.
The fortified town of Gallipoli marks the beginning of the coastal section of the holiday as the route leads you south along the Ionian coast's gorgeous beaches. After a night at the very tip of Italy's heel you turn north and head up the rugged Adriatic coast to the enchanting town of Otranto. As a fitting finale your last night is spent in the ornate and opulent town of Lecce. Lose yourself in the narrow streets and find the perfect restaurant to celebrate your Puglia adventure.
This leisurely cycling holiday can be enjoyed by anyone of average fitness. For the most part the terrain is level and any hills are short and not that challenging.. Olive groves and traditional dry-stone walls are your constant companions, giving way every now and then to charming little villages, wetland nature reserves, rugged coastlines and gorgeous beaches.
The route mainly follows secondary country roads with some unpaved sections along the way. It's mostly level with some short climbs here and there.