An easier version of our Alsace Cycling Holiday with shorter daily rides that allow plenty of time to explore the beautiful wine villages that punctuate this sublime cycle route. Quiet lanes, vineyards stretching to the horizon and quaint, colourful, medieval villages. Suitable for newcomers to cycling holidays and families.
This relaxing cycle route leads you along the famous Alsace Wine Route from Strasbourg to Colmar. The easy daily rides lead you along quiet vineyard-lined lanes to the most beautiful wine villages in Alsace.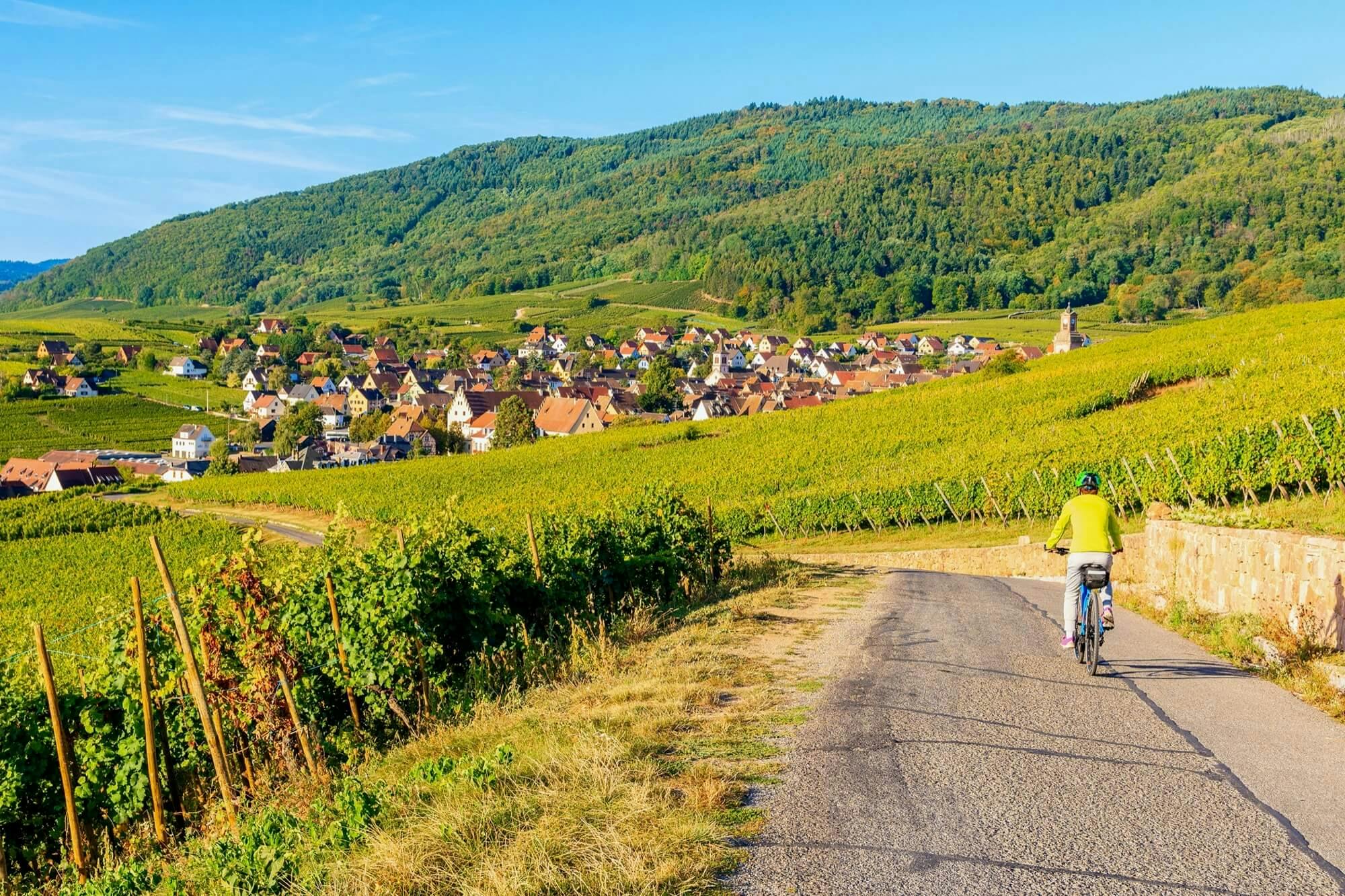 Cycling near Riquewihr
Your first night is spent in Strasbourg where you can visit the imposing Notre Dame Cathedral, with its intricate astronomical clock, the baroque style Opera House and 'Petite France' – a picturesque area between the two rivers crammed with half-timbered houses and narrow cobbled streets. You then cycle beside the meandering Canal La Bruche out into the wine region and begin following the famous wine route south.
You'll stay in beautiful wine villages each night and cover, on average, around 22 kms each day (more on some days, less on others). These short daily rides are designed to give you plenty of time to explore the plethora of gorgeous Alsatian villages that pepper the route. Half-timbered, brightly painted medieval houses line the narrow winding cobbled streets of these well preserved villages where little has changed for centuries.
Highlights of this trip include Strasbourg and the villages of Obernai, Barr and Andlau. The village of Riquewihr is especially charming and Eguisheim was recently voted the country's favourite village by the French themselves. You'll also love the simple pleasure of the daily rides through the endless vineyards with the green flanks of the Vosges Mountains in the distance and the stone church spires rising above the vines.
The final night in the bustling town of Colmar with its picturesque 'Little Venice' centre is a fitting finale to this very enjoyable route.
This route is easy and can be enjoyed by anyone with a basic level of fitness. There are some undulations along the way but they are always mercifully short. You'll be riding on quiet lanes and cycle paths most of the time. E-bikes are an available option on this route.