A leisurely cycling holiday on quiet lanes and cycle paths from the lovely city of Bruges in Belgium to Amsterdam, Holland's cycle friendly capital. Along the way you'll pedal alongside serene canals and through idyllic polder landscapes to charming villages and historic towns. Highlights include the maritime towns of Zeeland, the windmills of Kinderdijk, Dordrecht – one of Holland's oldest cities and, of course, Bruges and Amsterdam themselves.
Enjoy the atmospheric, cobbled streets and pretty canals of Bruges for an evening before embarking on a leisurely cycling adventure northwards to Amsterdam. Detailed route notes and maps will lead you along a wonderful network of cycle paths and quiet lanes and don't worry, this is the lowlands and so you can rest assured you won't encounter any hills along the way.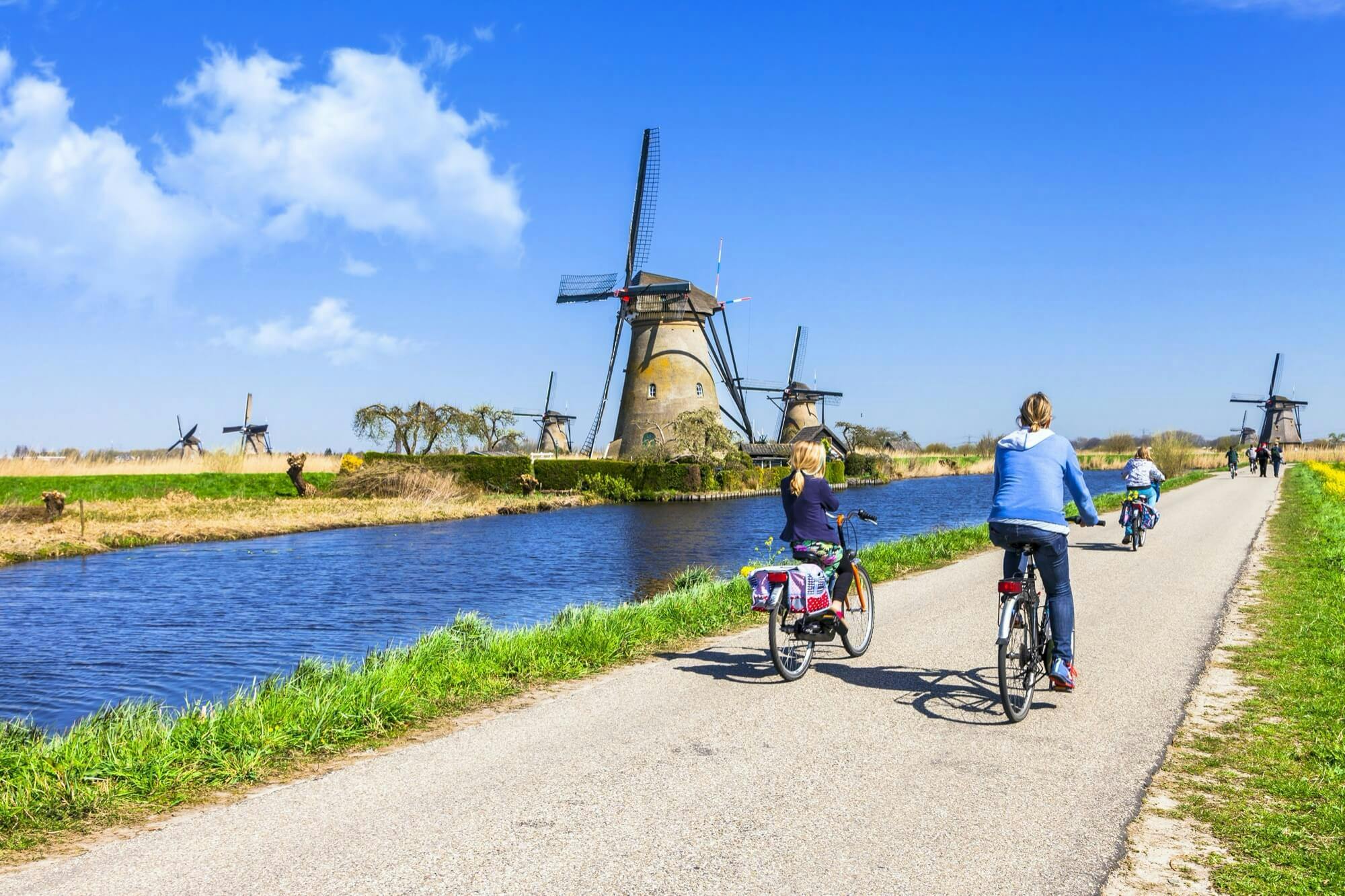 Windmills of Kinderdijk
The verdant polder landscape is interrupted by the odd windmill or church spire on the horizon, the latter providing advanced notice that you are about to cycle through another gorgeous little village or town.
The route flirts with the North Sea coast and at Breskens you cross the wide Schelde Estuary by ferry to the maritime town of Vlissingen in the rural province of Zeeland. Wide-open spaces, big skies and sandy beaches, characterise this charming region which is perfect for exploring by bike.
In North Brabant you spend a night in the fortified town of Willemstad, surrounded on three sides by water, before riding on to Dordrecht, an ancient town with many historic buildings and a delightful old marina. The 19 working windmills of Kinderdijk are another highpoint as is the cheese town of Gouda with its wonderful central square.
Finally you pedal triumphantly into Amsterdam, a city where bikes outnumber cars four to one! Explore the 400 year old canal district and toast the completion of your adventure in one of the many street cafes.
This is an easy to leisurely route that can be enjoyed by anyone with a basic level of fitness.